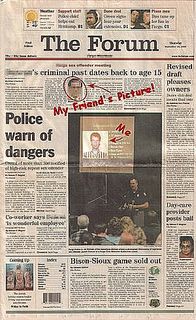 See it here- towards bottom of page (also images of him as a young boy are availible, which are java scripted to go from a young school picture to the sex offender we all now know)
Newspaper image from Duncan's Blog- The Fifth nail. Now, the entry that went along with this image talked about his being "on the lamb" in San Francisco befriended by a Doctor. He claims the doctor was ruined for befriending him after the paper ran the stories. Am trying to track down where the paper is from- Cali or Fargo. Any help? cause I would love to read the story which enraged him so.

Another Bad Posting from the Pervert Himself- "Let me take a moment to clarify an important point in my stand against discrimination. I am not against efforts to raise community awareness about potential threats. I am against laws that encourage and allow arbitrary discrimination against a person because of mistakes they may or may not have made in the past. It is a serious violation of human rights to judge another person based on what they might do. Sex offenders are routinely evicted, denied services, and harassed because of the community notifications. While many states make it against the law to harass a person who is subject to notification, no state has yet to make a law preventing outright discrimination. I would not be so apposed to the registration laws if there were provisions protecting the offender's rights as a citizen. Not special rights; just the same rights any other person has. With out such protection, the Megan Laws are no better than the Jim Crow Laws, or the Nuremburg Laws. " Source: here

As serious misjudgement is that we actually free this low lifes back on to the streets- putting every child at risk to one day meet them and be tarnished by them. The innocent suffer when people such as Joseph Duncan are allowed to walk freely. For the rights of sick monsters- the right to "life, liberty, and the pursuit of happiness" is stolen from all who come in contact with them.
****************Source HERE

Posted on Sat, Apr. 02, 2005
Convicted sex offender charged with molesting childAssociated Press
FARGO, N.D. - A North Dakota State University student and one of this city's first high-risk sex offenders has been charged in Becker County, Minn., with molesting a 7-year-old boy near a middle school.
Joseph Edward Duncan III, 42, remains free at least until Monday, when he is scheduled to appear in Becker County District Court.
The criminal complaint, which charges Duncan with second-degree criminal sexual conduct and attempted criminal sexual conduct, accuses Duncan of approaching a 7-year-old boy and his 9-year-old friend with a video camera on July 3 at a middle school playground.
The complaint said Duncan pulled down the shorts of the younger boy and touched him. He tried the same thing with the other boy but wasn't successful, the complaint says.
The younger boy described the man and his car to police, who matched the descriptions to Duncan and his car through a sex offender database. The boy identified Duncan in a photo lineup.
Duncan's criminal past includes the 1980 rape of a 14-year-old boy in Washington. He served 14 years in prison for the crime before moving in 2000 to Fargo.
Since then, Duncan has lived at the same location without any violations of his lifetime sex offender registration requirements, said Lt. Tod Dahle.
"We've never had any trouble with him at all," Dahle said. "He got a couple of speeding tickets, but that's about it."
On Thursday, Duncan visited the Fargo Police to register a new address for a second job he recently got in West Fargo, Dahle said.
Fargo police knew of the Becker County investigation but didn't know until Friday of the charges, Dahle said.
Duncan has been enrolled at NDSU since fall 2000. He is now a senior majoring in computer science, said school spokesman David Wahlberg.
The university knew about the Becker County charges, but student privacy laws restrict school officials from discussing what actions, if any, they might take against Duncan, Wahlberg said.
Duncan made the dean's list in fall 2000 and spring 2001. He's a member of Phi Kappa Phi National Honor Society, an academic excellence fraternity, Wahlberg said.
More than 300 people attended a community notification meeting for Duncan after his move to Fargo. At the time, he was one of two Level Three offenders with addresses registered in Fargo.
Level Three offenders are those considered the most at risk of reoffending. The police currently list six such offenders living in Fargo on its Web site.